In today's ever-connected digital age, more and more of our members have begun to think about bringing their business idea to market. For most individuals, a business starts off as an idea, and rarely develops past that stage.
It's because most new entrepreneurs haven't taken the time to create a business plan.
What exactly is a business plan?
Think of a business plan as a blueprint for the future of your business, and it's a key factor in the success or failure of a business. A business plan allows you to place all your ideas in an easy to access and digestible document.
Why Take the Time to Make a Business Plan?
Often, as a small-business owner and new entrepreneur entering the market, you are focused on the day-to-day running of the business and don't take the time to develop your strategic goals. Or, you've spent time cultivating shareholders and investors but have not thought of financing your business after an initial round of funding. How will your finances look in 5 years? What are your first year's initial sales goals? What does a successful quarter look like?
These are the questions that can be addressed in your first draft of a business plan. Your first draft will be just that, a draft that's ever-expanding and growing to meet market demands. It's important to remember to write to your audience. Use language your investors will understand and try to avoid technical jargon about your product or service that may not be understood at a glance.
Overall, your business plan wants to answer one main question
"What are your goals for the business for the next year and beyond? "
Seven Steps of a Great Business Plan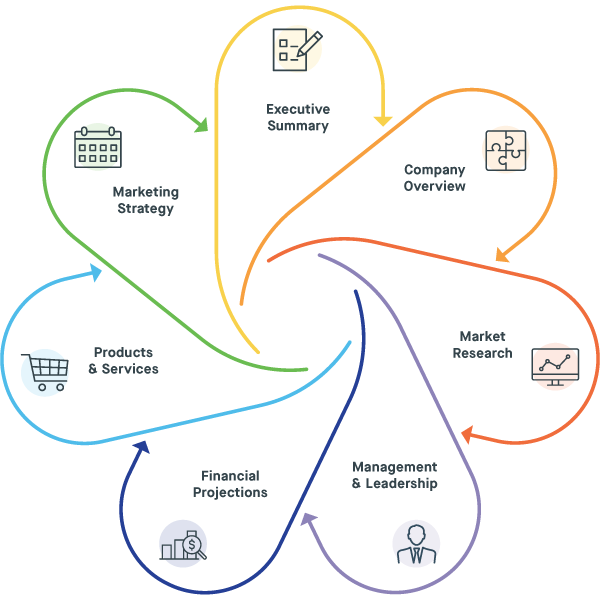 Executive Summary
A synopsis of your business. It should summarize the entirety of the business plan in two to three pages. A good executive summary will focus on the following:
Company Overview
This should tell yourself, employees, and potential shareholders about the mission of the organization in the broadest sense. Your locations, list of owners, and types of products or services you offer.
Market Research and Analysis
Define your industry and your competitors. Explain how you will differentiate yourself in the market. This is a perfect opportunity to assess your competition in your area, locally, regionally, or nationally. This can help determine your scalability.
For example: Do you plan on running a brewery that will only serve the local community, or do you have ambitions of mailing your craft product? A SWOT analysis of your competition will help determine your viability in the marketplace.
Management and Leadership
How is your business structured and who will manage different aspects of the business? Will you have partners or investors that need to be factored into decision-making? What are the duties of each roll? Understanding the management structure will prevent finger-pointing and shirking responsibilities.
Financials/Projections
Perhaps the most critical part of any business plan, especially if you are seeking investments of a loan to fund your operations. The projection numbers should support the ability of your business to pay back the loan. Here you can list the percent of revenue you plan to keep as income as well as a list of your assets, debts, and cash flow statements. For new entrepreneurs, without any assets, this is a section that can easily be expanded upon in future drafts.
Products/Services
Explain how your business fits into the market and what need it is fulfilling for businesses or consumers. Here you can list:
Your product and how it differs from the competition. Is it a wanted product in a niche market?
Industry trends and product relation
Your typical customer base
Sales strategy
How you will meet demand and keep up the supply
Pricing Model
Operation Techniques
Associated Patents
Marketing Strategy
Explain how you will promote your business, the pricing model, and how you will take the products and services to market. How will reach your target market and what type of marketing campaigns will you execute in the first six months of your business? Will you rely on heavy word or mouth or an aggressive advertising campaign?
Take note of any "influencers" you can connect with to promote your business. Influencers in this sense could be anyone with a following on a social media platform that you have a connection. This could be business leaders, media connections, local government figures, and anyone who you think your business would benefit.
How can I make a business plan?
You can start your business plan with nothing more than a pen and paper or a word processing document. There also exist creation tools that you can help you create your business plan. Use this guide as a rough outline and a rubric to help you remember all the pieces needed.
---
Ready for the next step? Reach out to us at Business First. With over fifty years of service in the Lehigh Valley, when we say "your business is our business at FCFCU" you can rest easy knowing we will be here for the long haul.